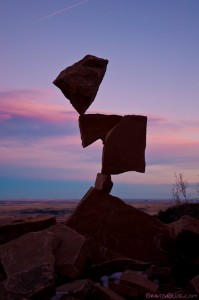 "What is done out of love always takes place beyond good and evil."
~ Nietzsche
It is nearing the end of the Winter Solstice 2012, and another long count cycle of the Mayan calendar has begun.  For many this day signifies the dawning of a new age. For others, it was supposed to bring doom. Then for most of us, it is just another day that was hyped up much too much..
Today I went out balancing in support of a global day of balance.. Not sure why it was chosen to be today, possibly related to 2012..? maybe for the solstice…yes.  I like to look at it as another quiet day…a gesture of appreciation… a demonstration that the world is NOT ending, that gravity still works. :)
Something interesting I learned about the ancient Mayans with respect to their calendar, is that when they reached a new cycle of their calendar, they smothered every flame across their civilization for that one night. Complete darkness.  Makes me think of some kind of system restart..
Love.