Gravity Glue Calendar 2023
( 10th Edition )
---
---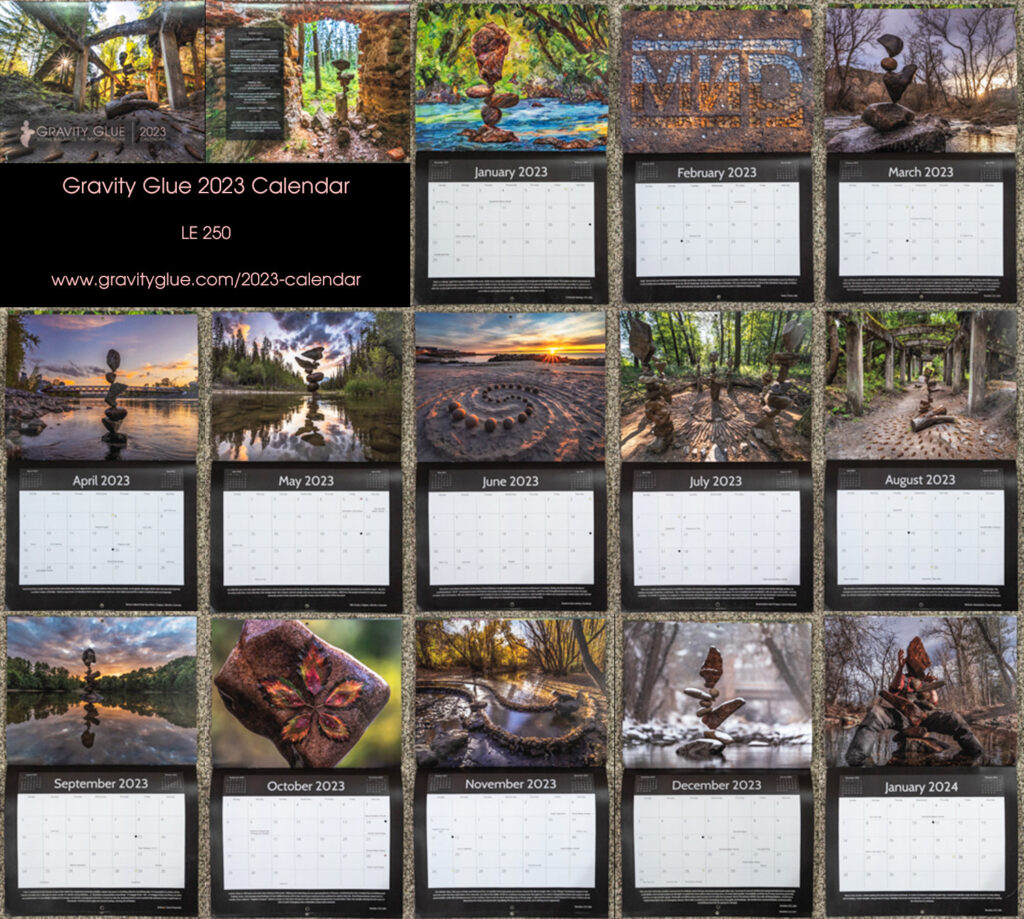 ---
---
~
It is my pleasure to introduce the 10th edition of my official Gravity Glue Calendar for 2023. It is the same format as last year — Fully custom design, 13-months, signed + numbered, tracking my creation throughout the previous year. But this one features several creations as i travelled for 6 months of the year, including work from Colorado & Texas, as well as Canada, Scotland, and Czech Republic, as well as a special inclusion of a collage quilt created by my Mother, featuring a balance I made in 2012. As usual, each image includes a caption related to its experience/context.
~
Image Dimensions: 12″ x 9.5″ (~ 30.5 cm x 24 cm)
~
Limited Edition: 250
---
---
Pricing Options based on shipping:
Domestic (USA only) – $37.00
International (Canada Only) – $51.00
(+) International (Worldwide) – $60.00
(++) Local Pickup – $31.00 (No Longer Available)
** you will have the ability to change the order quantity, add shipping information, and confirm your purchase after selecting the correct option below and clicking "buy now"
~ Orders will start shipping Tuesday, November 8th, 2022 (Full Moon) ~
(+) Unfortunately International shipping costs are quite expensive, and therefore reflected in the prices.
(++) Please be advised that Pickups may be a little more complicated this year because I currently do not have a Pickup address in Boulder. Pickup will either need to be made in Thornton, Colorado, or Boulder, Colorado depending on where I will be at the time of pickup. Generally the much easier faster method to receive your calendar is to order it shipped. If you are a returning customer who normally orders multiple Calendars for pickup, please be aware of this change and if any questions, feel free to contact me about how best to proceed. Sorry for this inconvenience and thank you for your understanding.
***Pickups are no longer available***
---
---
as of 7:25am MST Nov 16th, there are only 2 left in stock !!!
if stock runs out, the link will no longer allow you to buy. If it does not work for multiple quantity, try just ordering 1
---
---
---
*** NOTICE ***
Please ensure that you choose the correct shipping option. If incorrectly chosen, you will be responsible for settling the difference in cost, if applicable, before your order ships.
Please also ensure that you enter the correct shipping address, especially for International orders. Any error in shipping information that results in the package being returned to me, will warrant an additional fee to reship, or a refund minus the original shipping cost. Additionally, if i make a shipping error, I will certainly reship at no extra cost, or give you a full refund, depending on your preference.
If you choose Local Pickup, please contact me after purchasing to arrange a time to pickup your Calendar(s).
---
---
~ THANK YOU ~
---
---