Gravity Glue Calendar 2021
( 8th Edition ) – SOLD OUT!
---
---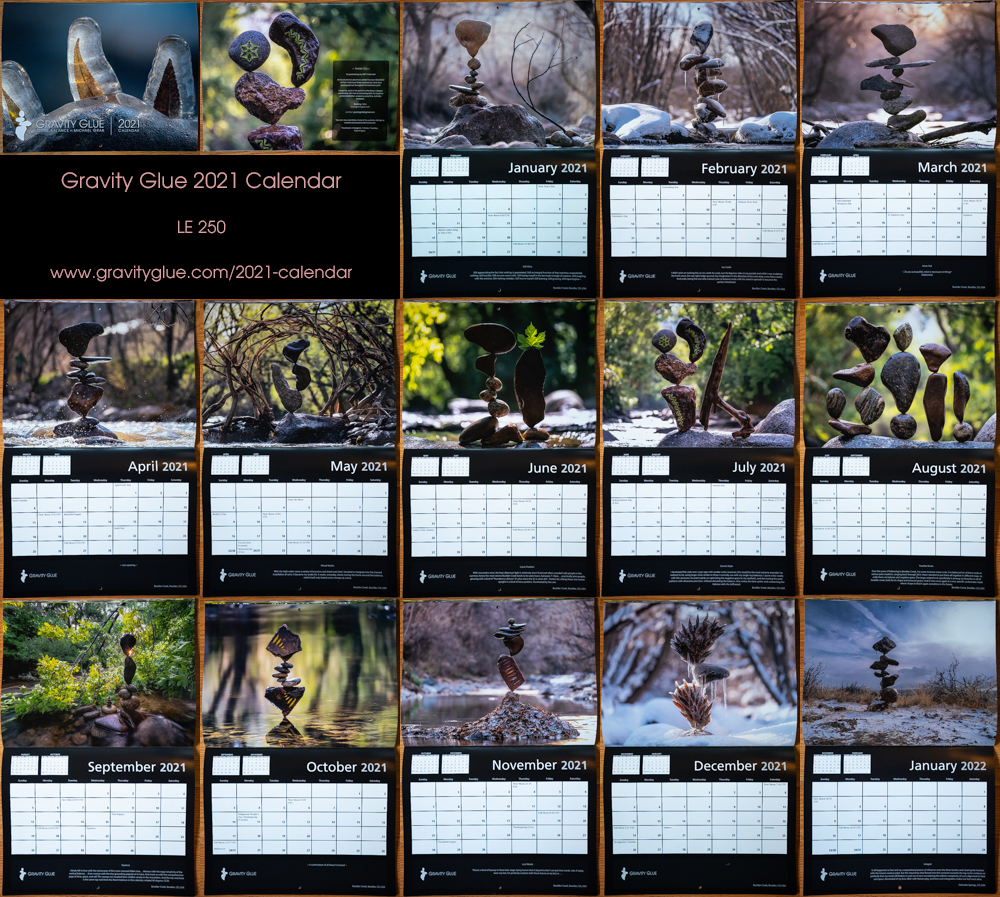 ---
---
~
Same format as previous years — 13 Months — Each month features a creation from the previous year's corresponding month as well as a short caption related to each experience. Each copy will be signed and numbered on the front cover, Along with my custom inclusion of Lunar Phases, Solstices, Equinoxes, and various cultural holidays. As this edition features only work from Boulder Creek in Boulder, Colorado (excluding Jan '22), I love how the images track the seasonal changes, as the leaves are first growing in the Spring, through to their Fall shedding, and back to snow and ice. This is also the first Edition that I fully customized the back cover to include a closer look at one of my favorite creations of the year. The Cover also features a macro look at the December creation with leaves and ice. I included this cover image to highlight the beautiful layers (phantoms) in the ice, which represent pauses in my application of misted water during the 5 or 6 day subzero temperatures.
~
Image Dimensions: 12.25″ x 9.5″ (~ 31 cm x 24 cm)
~
Limited Edition: 250
---
---
Pricing Options based on shipping:
Domestic (USA only) – $36.00
International – $50.00
Local Boulder Pickup – $30.00
** you will have the opportunity to change the order quantity, add shipping information, and confirm your purchase after selecting the correct option below and clicking "buy now" **
Orders will start shipping Monday, ** November 23rd, 2020 **, on a first-come-first-serve basis
---
---
SOLD OUT!!!
---
---
*** NOTICE ***
Please ensure that you choose the correct shipping option. If incorrectly chosen, you will be responsible for settling the difference in cost, if applicable, before your order ships.
Please also ensure that you enter the correct shipping address, especially for International orders. Any error in shipping information that results in the package being returned to me, will warrant an additional fee to reship, or a refund minus the original shipping cost. Additionally, if i make a shipping error, I will certainly reship at no extra cost, or give you a full refund, depending on your preference.
If you choose Local Pickup, please contact me after purchasing to arrange a time to pickup your Calendar(s) in Boulder, Colorado.
---
---
~ THANK YOU ~
---
---